DBS does Scapa - a tale of split fins and infinite worms
Report from Eddie Adie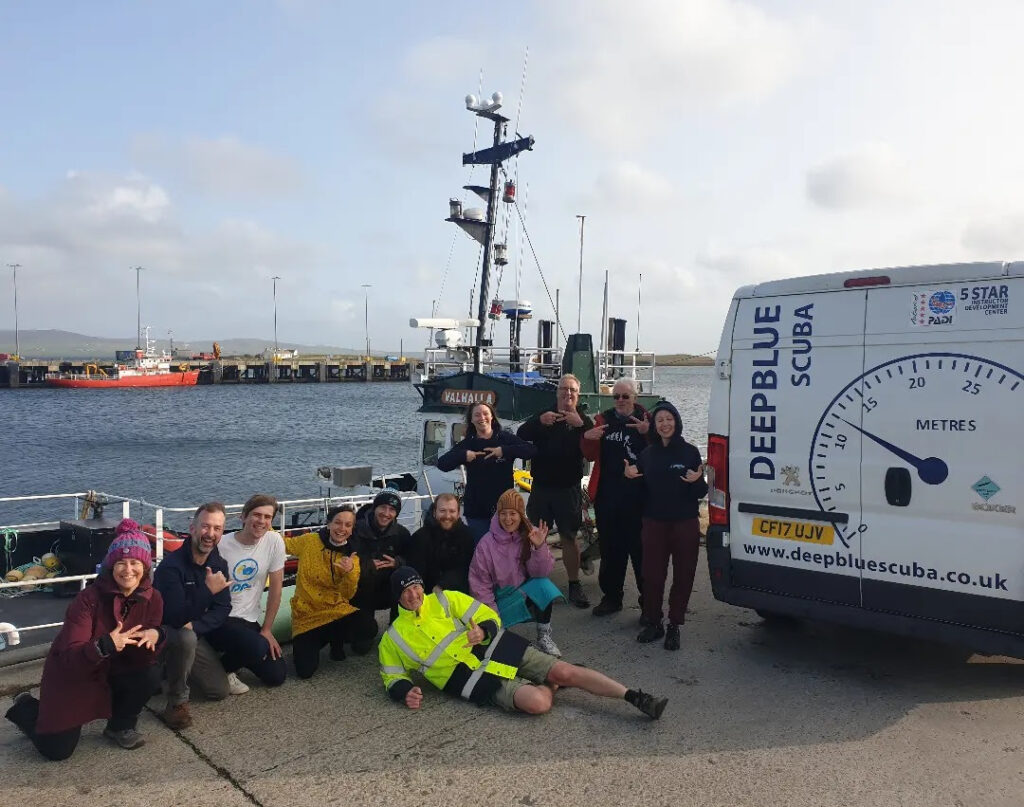 On Saturday 23 September, 12 intrepid DBS adventurers (myself, Abi, Andy, James, Gareth, Bungie, Aimee, Jorge, Ellis, Maria, Annabel, and Wiebke) boarded the MV Hamnavoe at Scrabster bound for Stromness and a week of diving in Scapa Flow.
It turned out to be quite a milestone week for three of our divers: Aimee reaching her 100th dive, James hit his 300th, and Bungie clocked up his 500th… Well done all of you, and I hope that your special dives will live long in your memory.
Our hosts for the week aboard the MV Valhalla were our fantastic skipper Hazel, and her equally fabulous crew of Brandon and Jacob. After loading our kit, listening to the safety briefing, and settling into our (very comfy) cabins, we headed to the Ferry Inn for a meal and chatted about our expectations for the week… which were soon to be massively exceeded!
Day 1 -24th September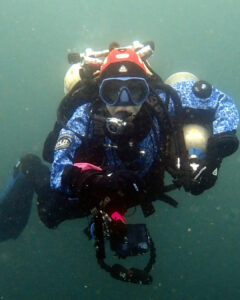 Dive 1: SMS Karlsruhe. This light cruiser measures about 110m in a depth of about 25m lying on her starboard side. It was a great first dive as the wreck isn't too deep and has large guns and other heavy engineering on show.
[Max depth 26m, dive time 56min].
Dive 2: F2 & YC21. The F2 was an escort boat some 80m long, and the YC21 was a salvage barge sunk in a storm in 1968. Both wrecks sit at a depth of about 16m and are helpfully connected by a line, although in clear conditions it is probably possible to see YC21 from F2 and vice versa.
[Max depth 17m, dive time 55 min].
Day 2 – 25 September
Dive 3: SMS Brummer. A mine laying cruiser (designed for speed) about 140m long with max depth ranging from 20 to 35m on the seabed.
[Max depth 35m, dive time 52 min].
During our surface interval we visited the Island of Hoy and the Scapa Flow Visitor Centre and Museum at Lyness, which gave an idea of what life must have been like at the end of WW1 on Orkney – highly recommended if you ever visit Orkney!
Dive 4: SMS Dresden II (Bow section). Our first visit to the Dresden II (we would return on our last day). A Cöln class light cruiser approximately 115m long.The bow sits in about 22m and the max depth for most of us was about 34m as we didn't visit the stern on this dive.
[Max depth 32m, dive time 65 min].
Day 3 – 26 September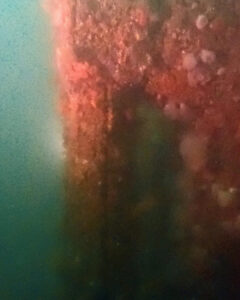 Dive 5: SMS König. Our first Battleship of the week nearly 150m long. Almost completely upturned, the hull sits at about 24m, and the seabed at nearly 40m.
[Max depth 37m, dive time 68 min].
Dive 6: SMS Cöln. This light cruiser is the sister ship of SMS Dresden II and therefore similarly sized at 115m. The wreck lies on its starboard side at about 36m rising to just over 20m.
[Max depth 34m, dive time 47 min].
Day 4 – 27 September
Dive 7: SMS Kronprinz Wilhelm. This battleship is almost150m long. Some of the wreck in very shallow (under 15m), however most of the interesting features such as various guns and the huge rudders sit at around 35m.
[Max depth 37m, dive time 57 min].
Dive 8: UB-116. A smaller wreck but sitting on white sand which made for a fabulous dive.
[Max depth 29m, dive time 63 min].
Day 5 – 28 September
Dive 9: SMS Markgraf. Another day, another battleship…. but this was something else, a stunning dive (admittedly challenging due to a persistent current) with loads to see and marvel at!
[Max depth 33m, dive time 40 min].
Dive 10: V83. Shallower than some other dives in Scapa Flow, this wreck is no less interesting; plenty for both wreck heads and squidge hunters alike! The V83 was a Torpedo Boat beached during the scuttling of the German fleet. Max depth on this dive was about 15m, sloping up to under 5m near the shore.
[Max depth 14m,dive time 60 min].
Day 6 – 29 September
Dive 11: SMS Dresden II. Due to extremely challenging weather conditions which arrived on Orkney late morning, this was the final dive of the trip. We revisited the SMS Dresden II, however this time we descended the stern shot line and took in all 115m of the wreck before ascending the bow shot.
[Max depth 38m, dive time 44 min].
Day 7 – 30 September
And just like that, it was all over apart from sailing back to the mainland and making the long drive back to Edinburgh. This was certainly one of the best DBS trips I have been on; we shared some great dives, a lot of laughs, ate a lot of food, and I think agreed on a new standard signal to identify one of us… who shall remain nameless!
In summary Scapa was a blast. If you have ever considered going but thought… it's not for me as it's deep, dark, and difficult… then think again. All the wrecks we dived were easily reachable by recreational divers (the deepest dive I did all week was 38m on the Dresden II).
This trip opened my eyes to another fabulous diving location that we have right on our doorstep, and in the words of that great philosopher of our time (Arnold Schwarzenegger) "I'll be back"!
Oh yes… the infinite worms… probably best that you just ask Jorge – personally I blame narcosis 😉